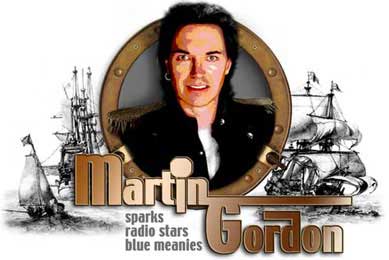 ---

Martin Gordon and Chris Townson proudly present another joint work. All lyrics from the "God's On His Lunchbreak" Cd are printed in this book, along with Martin Gordon's overview of each song and Chris Townson's splendid full-colour illustrations depict the rather odd characters that populate them...

---
The God's On His Lunchbreak Book

Martin Gordon & Chris Townson present "

God's On His Lunchbreak Companion", the illustrated and annotated lyrics from the recording of the same name.

In the "

God's On His Lunchbreak Companion" y

ou can research the origins of every song, mull over notes on the musical construction, luxuriate in anecdotes about the recording sessions and muse over the themes. Admire full-colour illustrations by Chris Townson who also drew the covers to "The Joy of More Hogwash" and "God's On His Lunchbreak (Please Call Back)".

All musings, ramblings, anecdotes and similar stuff are written especially for the 52-page book and are not merely a cheap reprinting of material from inside the CD booklet, something discovered on the back of a cornflakes packet or merely translated from a shopping list written in Babylonic cuneiform. The material will not appear on any website (except for the bit below), on posters of wanted nocturnal mammals, in light pornographic novels or, indeed, in the manifesto of any political party.

The God's On His Lunchbreak Companion is now available through the official Martin Gordon's website - http://www.martingordon.de. Order God's Companion here for 15 euros (£9.00) + p/p. Orders despatched within 24 hours.
---

THE AUTHORS : MARTIN GORDON & CHRIS TOWNSON

---
- Martin Gordon -

Martin Gordon

bassist / songwriter / record producer / Berlin-resident began his career with eccentric Californian pop band Sparks, after they ditched their fellow countrymen and moved to London to acquire some musical muscle and a little Englishness. Their treacherous move paid off handsomely with the monster success of the album "Kimono My House" and singles "This Town Ain't Big Enough For The Both Of Us" and "Amateur Hour". Martin Gordon played bass, provided most of the arrangements and was dismissed shortly thereafter for obstreperousness. At the begining of the century Martin Gordon decided to dive nose-first back into rock'n'roll. "The Baboon in the Basement" Cd was released in 2003, "The Joy of More Hogwash" in June 2004. The third - "God's On His Lunchbreak" - was released in September 2005.

Read more about Martin Gordon

HERE

(in french), or check out the

Martin Gordon's Site
| | | | |
| --- | --- | --- | --- |
| - Chris Townson - | Chris Townson fell into the music business accidentally, after living artfully on the streets of London for a year on leaving boarding school and public care in 1965. He started playing drums in a local band which evolved into the now legendary proto-punk, musically challenged but stunningly attractive John's Children. Many of his musical influences were generated at this time by fellow Track recording artists the Who and Jimi Hendrix, and in particular Ginger Baker of Cream, who would offer advice and support in the acquisition of drums and cymbals and would also supply Chris Townson with backstage passes to Cream's London gigs. Amidst the dying embers of John's Children, Chris Townson realised a dream and played a short tour with the Who in place of the injured Moon. As if this were not enough, he was also privileged to sit in with Jimi Hendrix for the occasional jam session at the notorious Speakeasy Club in London. | | |
| | | | |
| | | | |
| --- | --- | --- | --- |
| | After a time of introspection in a college circuit blues band, Chris Townson emerged in 1972 in the so-called "Glam Stomp" Jook. Together with Trevor White, Ian Hampton and Ralf Kimmett, he spent the next few years desperately seeking a hit record and being managerially bounced between RCA and Mickie Most's RAK in the attempt. With the unsavoury osmosis of half of Jook to Sparks in 1974, Chris Townson met up with Martin Gordon, fellow ex-'Johns Child' Andy Ellison, Davey O' List and other sundry musicians at a loose end and Jet left the production line. Wonderfully enjoyable outside the studio and a personal nightmare within it, Jet proved to be the band that convinced him that perhaps his talents and future success lay outside the music industry. Despite contributing to the embryonic Radio Stars and occasional session work, Chris Townson tore up his union card and left the music business. | | |
| | | | |
The End Of The Line
illustration by Chris Townson

The Captain Of The Pinafore
illustration by Chris Townson

All-Day Thinking
illustration by Chris Townson
In the spring of 1992, Chris Townson was dragged kicking and screaming to play a John's Children Reunion gig in Germany. This 'one-off' spawned such interest that the therapeutic thrashing of drum kits now happens on a regular basis. This extends to material from Radio Stars, Jet and to a lesser degree Jook and Sparks. More recently still it extended to Martin Gordon and his Baboon, a thoroughly enjoyable experience which laid to rest some of the ghosts of the 'Jet' album. Despite being forced to look up again during the recent Berlin recording sessions, Chris Townson did manage to hit the right cymbals at the ride time, at least so far as Herr Hogmeister and Martin the engineer were concerned, and everything turned out very nicely again.
Now a social worker, Chris Townson has "squared the circle" and is the manager of a residential project supporting young people making the difficult transition from public care to independence... and Chris Townson draws so well !
---
| | | | |
| --- | --- | --- | --- |
| | The cover of "The God's On His Lunchbreak Companion" was assembled by Xavier Lorente-Darracq. That's the reason why Martin Gordon & Chris Townson were kind enough to write nice autographs upon Xavier Lorente-Darracq's copy. | | |
| | | | |
---

Cette page sur le livre "The God's On His LunchBreak Companion" de Martin Gordon et Chris Townson ne signifie en rien que ce site est affilié à Martin Gordon ou à Chris Townson. Le webmaster du site Graphik Designs n'est en aucun cas salarié de Martin Gordon et Chris Townson et ceux-ci ne sauraient être tenus responsables des propos sus-cités. Pour plus de renseignements sur ces auteurs et pour commander le livre "The God's On His LunchBreak Companion", visitez le site de Martin Gordon : http://www.martingordon.de