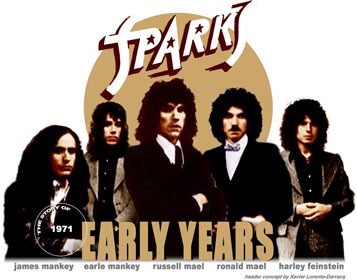 ---
SPARKS/HALFNELSON SELF-TITLED ALBUM - BEARSVILLE RECORDS 1972
---
Todd Rundgren

rescued Halfnelson by getting a contract for Bearsville label and produced their self-titled 1971 debut. Halfnelson/Sparks album was one of Todd Rundgren's first outside production jobs since his own group, Nazz, and the job was excellent.

Todd Rundgren was a producer who had a reputation for imposing his own sound/aesthetic on the musicians with whom he worked, but, basically, that first album is exactly like the

demos

Halfnelson made, even though the sound quality was enhanced.

Todd Rundgren let the band do what it want and didn't tamper with things the way record companies do now. Todd Rundgren liked the material enough to sit back and encourage Ron Mael, Russell Mael, Earle Mankey, Jim Mankey & Harley Feinstein to do their own thing. Nevertheless lots of harmonies Todd Rundgren opted for were rejected by the band with cries of "slick ballads!".
Todd Rundgren thought the band to be the weirdest bunch of people he'd never met but thought Sparks was a funny band too...
Todd Rundgren had a really casual manner about him. When Todd Rundgren was enjoying what the band was doing he'd walk around the studio with a drumstick up each nostril... But in retrospect Sparks was not all that happy with his production and one year later Ron Mael said to Constant Meijers from Aloha Magazine (Netherlands) : "Todd Rundgren is extremely nice, but if you had to work with him, you wouldn't have much space for your own ideas. We did not feel his way of producing was suitable for our music. However, he could not be convinced otherwise. We started to behave a bit nasty and aggressive towards him and finally he didn't turn up anymore."

The first song to be recorded was "High C". This song was to be a lot heavier, but, somehow didn't turn out that way. Nevertheless, "High C" was Ron Mael's favourite tune and one of the better received songs when the band played live during that period. On this album there's also the neato Jim Mankey's bass line and quaint incest Ron Mael's lyrics to "Fa La Fa Lee" sang by a Russell Mael who had a cold ; the sound of thirty pianos tinkling away to Russell Mael's falsetto on "Simple Ballet" (seven takes to get the best performance of him singing "oh, no" preceding the instrumental !), or the near hard rock of "(No More) Mr. Nice Guys" (no relation with Alice Cooper's one) with its definitive guitar solo courtesy of Jim Mankey...
Russell Mael's "Roger" and "Saccarin And The War" were re-vamped from the Halfnelson's demo tape and these two oddest tunes presented him as a shadowed force in the more lunatic aspects of the group. One song, "Big Bands", was in a early incarnation, a ditty called "Summer Days" which Russell Mael wrote and performed on tape for a school film project.

Earle Mankey's "Biologie 2" brought a new sound to high school rock : no Wayne Kramer's MC 5 punkiness, but a scientific experiment in dubiously carnal terms. The female voice saying "Ooh, let's do it !" was the then first Mrs Mankey, Alisha. "Biologie 2" was the very first song the band heard airplayed on radio and was the only track from the Halfnelson album to appear on a Warner Bros loss leader sampler, "The Whole Burbank Catalogue" (Pro 512), compiled by Barry Hansen aka Dr Demento.

This first album was a startling debut, with its crude yet experimental rhythms - the band used to beat on cardboard boxes with reverb on and run it through amplifiers - and ad-hoc inventiveness. Sparks managed to explore a bewildering array of styles using backwards tape loops and generally messing about with whatever lo-tech gadgetry they could find. This was music designed in the recording studio whose intricate arrangements would be nigh-on impossible to perform in concert. Sparks approached things from a recording standpoint and not a "live" one. - read more...
Although "Halfnelson" album didn't have much impact on its initial release, when Albert Grossman's Bearsville suggested they change their name. Albert Grossman actually wanted to rename Halfnelson into "Sparks Brothers" saying that they reminded them of the Marx Brothers but in the end it was decided only to use the first part of that name. Bearsville label put a photo of the band on a revamped version of the debut Lp's front cover : a fake drawn brick wall instead of the car interior. The name "Sparks" was easier to pronounce, even if Sparks' tunes were hardly to swallow...
| | | | |
| --- | --- | --- | --- |
| | After becoming Sparks, a single, "Wonder Girl", was released from the re-issued album. "Wonder Girl" was probably responsible for getting the band signed to the Bearsville record company. The b-side of the single was an edited and speeded up version of "(No More) Mr. Nice Guys". The single eventually reached number 92 in Cash Box and topped the local chart in Montgomery County, Alabama. The first Sparks' album didn't do jack commercially. It was a very good album, but it didn't sell... After the release of this first album on Bearsville Records, Sparks played some live gigs and performed "Wonder Girl" on ABC's "American Bandstand" TV show aired the 29 th of July 1972. - read more... | | |
| | | | |
---
SPARKS SELF-TITLED ALBUM - TRACKLIST & CREDITS
---
1. WONDER GIRL (2.15) - 2. FA LA FA LEE (2.54) - 3. ROGER (2.30) - 4. HIGH C (3.03) - 5. FLETCHER HONORAMA (4.01) - 6. SIMPLE BALLET (4.01) - 7. SLOW BOAT (3.50) - 8. BIOLOGY 2 (3.00) - 9. SACCHARIN AND THE WAR (3.57) - 10. BIG BANDS (4.15) - 11. (NO MORE) MR. NICE GUYS (5.45)

The songs were writen by Ron and Russell Mael, except "Biology 2" (words & music by Earle Mankey). The album was produced by Todd Rundgren and engineered by Thaddeus James Lowe for Bearsville Records. Cover photography by Larry Dupont
| | | |
| --- | --- | --- |
| Nota : Most of informations regarding the Sparks' first Lp on this webpage were obtained from The Rock Market Place Review by Joseph Fleury (Sparks manager in the 70's) printed into "2 Originals Of Sparks" booklet. Other ones came from a Mael's interview by Jim Wilson (www.mother-superior.com), Cd reissue booklet notes by Paul Lester of Uncut Magazine and Ruud Swart & Carl Van Breukelen's Sparks Fan Mael website. | | |
| | | |