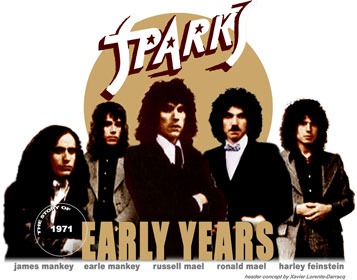 ---
SPARKS ON TV - ABC'S AMERICAN BANDSTAND JULY 1972
---
When the single

"Wonder Girl"

was released from the first

Bearsville album

, it reached number 92 in Cash Box earning Sparks an opportunity to reveal themselves in all their gorgeous-grotesque glory on "American Bandstand" TV show.

Before MTV, ABC's "American Bandstand" television show was where America's teens went to learn - not just the new songs but the new styles and the new artists.

Ed Sullivan may have gotten the Beatles and Elvis, but legendary "American Bandstand" host Dick Clark and his surrogate children got absolutely everyone else, and while Ed Sullivan's show was Moms and Dads' gateway to pop culture, Dick Clark and American Bandstand were new generation one. When Dick Clark quit hosting in 1989 it had become the longest running television variety show of all time.
Sparks appeared on episode number 2041 of "American Bandstand" aired the 29 th of July 1972 and the other guest was Helen Reddy who sang "I Am Woman". Dick Clark host made reference to Sparks being good despite their appearance, and just in time for Russell Mael to pop out wearing a red and white checkered suit, Hollywood T-Shirt, and wielding a huge wooden sledgehammer : a sort of ferocious Alice In Wonderland transported in the Twillight Zone.
And then, there was Ron Mael - those eyes, and a Beatle pendant around his neck. The moptops would have cringed.
During the show, Ron Mael, Russell Mael, Earle Mankey, Jim Mankey & Harley Feinstein played "Wonder Girl" and "(No More) Mr. Nice Guys".
Four months after Sparks appeared on ABC's "American Bandstand Tv Show", Ron Mael, Russell Mael, Jim Mankey, Earle Mankey and Harvey Feinstein attempted their first assault to Europe. During this 1972 European Tour, Sparks played almost 30 gigs.

The band played in Great Britain, Holland and Switzerland. The Marquee Club in London was packed, and when Sparks performed on Britain's "Old Grey Whistle Test" TV show, host Bob Harris and english audience were marvelled at Ron Mael's appearance and Russell Mael's look.
In the winter of 1972, the guys moved to Zermatt, Switzerland. Then at Zurich, the band performed "Wonder Girl" on "Hits A GoGo" TV show, a very famous german musical show co-produced by the Swiss Television Network. - read more...
---
| | | |
| --- | --- | --- |
| | After the release of their first album on Bearsville Records, Halfnelson/Sparks played some live gigs but the boys had some trouble in attempting live versions of some of their songs. Furthermore, the band had also very strange scenic behaviours : Sparks had a miniature ocean liner made out of papier-mache, Russell Mael showered the audience with confetti and the Sparks' singer got a huge wooden sledgehammer ! At New York City Sparks was confronted by a line of hustlers who thought the band to be part of the "decadent new wave"... Audiences really didn't know what to make of the band in those days... - read more... | |
| | | |
| | | |
| --- | --- | --- |
| Nota : Most of informations regarding the very first Sparks appearence on "American Bandstand" TV show were obtained from The Rock Market Place Review by Joseph Fleury (Sparks manager in the 70's) printed into "2 Originals Of Sparks" booklet. Other ones came from Ruud Swart & Carl Van Breukelen's Fan Sparks website. | | |
| | | |