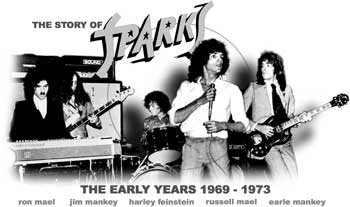 ---
THE SPARKS OFFICIAL FAN-CLUB NEWSLETTER
---
From 1988 up to 1991, Xavier Lorente-Darracq was member of the Sparks official fan-club and one day he sent secretary Mary Martin a caricature of Ron Mael & Russell Mael (on the bottom right). As this cartoon was published in the newsletter, Xavier Lorente-Darracq released a comic strip named "Maelstrum".
Maelstrum strips were drawn in a assumed naive graphic style and many Sparks' songs were hidden into the dialogues. A good knowledge of the history of the band and Maels' hobbies and practices is sometimes necessary to the good comprehension of some of these strips.
Then Xavier Lorente-Darracq provided the fan club newsletter with crosswords puzzles and some illustrations. Xavier Lorente-Darracq definitively ceased his collaboration with Sparksound in December 1991 because of his regular job. About fifteen strips of "Maelstrum"/The Sparkling Tunes Of Ron & Russell Mael were released.
THE SPARKLING TUNES OF RON & RUSSELL MAEL
by Xavier Lorente-Darracq
| | | | |
| --- | --- | --- | --- |
| | "Dear Xavier, Starting with Vol 14 #1 we will be using your strips. As long as you want to continue to supply them to us we will use them in the newsletters. Both Ron & Russ like them. I also think they are very good." - All the best, Mary (Martin). | | |
| | | | |