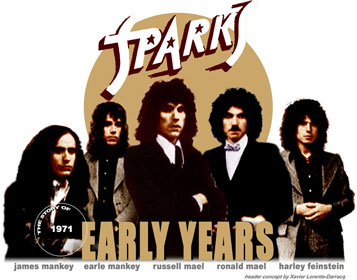 ---
SPARKS 1972 EUROPEAN TOUR - FROM ENGLAND TO HOLLAND
---
In November 1972, shortly after their New York debut at Max's Kansas City club, Sparks attempted their first assault to Europe. During this 1972 European Tour,

Ron Mael, Russell Mael, Jim Mankey, Earle Mankey and Harley Feinstein

played almost 30 gigs : The band played in Great Britain, Switzerland and Holland.

Sparks took England as the temporary headquarters as The Mael's parents were living there at time. Initially they were holed up in Beckenham, Kent but they got tired of catching the 10.49 from Victoria, so they moved to South Kensington, to the basement flat of Kenneth Tynan's house. In the United Kingdom Sparks performed on Britain's "Old Grey Whistle Test" TV show, and both host Bob Harris and english audience were marvelled at Ron Mael's appearance and Russell Mael's look.
| | | |
| --- | --- | --- |
| Impressively, Sparks earnt themselves a month's residency at the Marquee Club straight away. In America they played to six people at the Whiskey-a-Go-Go. In London there were queues around the block. The British audience was comparing Sparks music with that of T-Rex. The band was quite surprised about that comparison. In England, in the winter of 1972, Russell Mael met a girl whose father owned a club in Zermatt, Switzerland, called "The Post". Sparks' singer convinced the girl to persuade her father to let Sparks play in his club. Her father probably also agreed to pay for band members lodging and meals. The band arrived in Zermatt, went to the club, and attempted a sound check. The club owner couldn't believe what he was hearing and refused to let Sparks play. The musicians got to spend the next week in snowy Zermatt, in a little chalet, skiing at the foot of the Materhorn. In Switzerland, at Zurich, Sparks performed "Wonder Girl" on "Hits A GoGo" TV show. | | |
| | | |
"Hits A GoGo" TV show, was originaly a very famous german musical show but it was co-produced by a Swiss TV broadcast too. English famous glam-rocker Gary Glitter was on that show with Sparks. There was a bunch of friendly kids that regularly danced on the show. The parents of one of them owned an ice cream parlor and all the band went there afterwards.
During that short trip in Switzerland, Sparks had been confronted for the first time ever with an incredible popularity between so-called teenyboppers. Dozens of girls had been fighting over an autograph. One of them requested an autograph on her forehead. This sort of audience was totally new to them and it utterly surprised them... - see pics of the show...
Friday November 10, Sparks were in the Netherlands for a day. The band was welcomed at Schiphol airport by journalist Constant Meijers from "Aloha Magazine". After a photo session Sparks did an interview at Radio North Sea where they improvised a cheerful Christmas jingle. Then they did a recording of "Wonder Girl" for the "Top Pop" TV Show.

In Scheveningen, Sparks played in a club which was extremely small and it was virtually impossible to get a decent sound and perform a stage act. The support act had been cancelled so that Sparks had to play an hour and half twice. Ron Mael suggested to play the same setlist twice. The gig was poorly attended, the quality of the band unworthy but the audience could hear Sparks' version Tomorrow's "White Bicycle". - read the complete review...
Important : Why is there a shortage of photos ? When Sparks went to Europe Larry Dupont came along as road manager. Larry Dupont was practically a "6th Spark" in those days. He was primarily a professional photographer and did the shots of the band for the Bearsville albums covers. During this 1972 European Tour Larry Dupont certainly took pictures but nobody has seen them since these years.
Earle Mankey's wife Elisa came to the United Kingdom for a visit for a couple of weeks and took a ton of photos. These pics would be the best record of the era if they could be found... Unfortunately the good ones were all stolen in around 1975 ! Elisa Mankey was left with the rejects. She probably still has those but they are all bad shots...
| | | |
| --- | --- | --- |
| Nota : Informations concerning with the first gig of Sparks in Holland are from a review by Constant Meijers first published in Aloha Magazine, Netherlands, 1972. The pics from the very first Sparks appearence on german "Hits A GoGo" TV show were obtained from Christophe "Dr OuterSpace" Horlin from Belgium, Europe. Informations concerning with the trip in Switzerland are from Sparks' drummer Harley A. Feinstein. | | |
| | | |