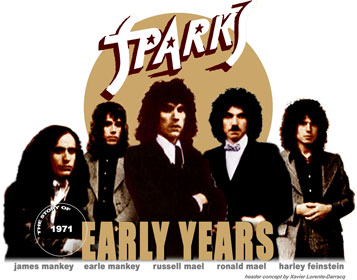 ---
URBAN RENEWAL PROJECT - PRE-HALFNELSON/SPARKS
---
Before Halfnelson Ron Mael and Russell Mael used to lead a group called Urban Renewal Project but two even earlier incarnations of Halfnelson were supposedly called Moonbaker Abbey and Farmer's Market. The Urban Renewal Project started around 1967, made up of Russell's friend guitarist Fred Frank, and his wife Ronna Frank who played drums. Unfortunately, Urban Renewal Project didn't qualify for state aid...

Urban Renewal Project played at the Los Angeles Sports Arena Battle of The Bands with whole group going through one amplifier. The guitar player's wife Ronna Frank ended up being the drummer - They had a snare drum ! Urban Renewal Project were edge out by a couple of other bands. Taj Mahal was there but he lost too. Urban Renewal Project didn't have a bass, so Fred Frank used a $20 guitar, he didn't know how to play bass anyway, and picked low notes.
At another Battle of the Bands at the YMCA, there were only two groups. The other group kept pulling out Urban Renewal Project's cords. Urban Renewal Project played their most obnoxious song in retaliation and the other band closed the curtain on them. Urban Renewal Project kept on playing and noticed something was wrong : they were all playing in different keys ! Then Urban Renewal Project played at an industrial Design Conference at UCLA where Ron & Russell Mael were students. All these straight people wanted a rock band but the only time the band could play was when they were eating !

At this point Urban Renewal Project were rather Captain Beefheart in appearance - Ron Mael with his vest and ten gallon hat, while Russell Mael donned short, ear length hair. Actualy, Ron and Russell were your average school fellas, fiddling about with different ideas, and also positive that they wouldn't go the Church dance route, playing other' people's songs. The fact that Russell used to mime to Del-Tone records and mimic "The Good Ship Lollipop" did little to advance them in the realm of peer hero worship. The Maels were considered, even then, an inside joke. Most of this period, the seeds of Sparks were planted in some local garage rehearsal. Only one song was recorded by Urban Renewal Project : "Computer Girl". Urban Renewal Project died when Ron and Russell Mael met Earle Mankey one year later... - read more...
About the photo Top Left : In 1966, Ron & Russell Mael appeared few seconds in "The Big T.N.T Show". This movie was directed by Larry Peerce. "The Big T.N.T Show" featured performances by :
Ray Charles : "What'd I Say", "Georgia on My Mind" & "Let the Good Times Roll", Petula Clark : "Downtown", "You're the One" & "My Love", The Lovin' Spoonful : "Do You Believe in Magic ?" & "You Didn't Have to Be So Nice", Bo Diddley : "Hey Bo Diddley" & "Bo Diddley", Joan Baez : "500 Miles" & "You've Lost That Loving Feeling" (with Phil Spector playing the piano), The Ronettes : "Be My Baby" & "Shout", The Byrds : "Turn Turn Turn", "The Bells of Rhymney" & "Mr. Tambourine Man", Donovan : "The Universal Soldier", "Reflections from a Summer's Day", "Bert's Blues" & "Sweet Joy" and Ike and Tina Turner : "Shake," "It's Gonna Work Out Fine", "Please Please Please" & "Goodbye So Long".
Ronnie Mael and Russell Mael were in the audience. We can see them watching The Ronettes perform. This photo on the top left is a screen capture from this movie by R. Steevie Moore.
Nota I : Most of informations regarding Urban Renewal Project on this webpage were obtained from The Rock Market Place Review by Joseph Fleury (Sparks manager in the 70's) printed into "2 Originals Of Sparks" booklet. Other ones came from a Kathy Orloff's review (Sounds) and Ruud Swart & Carl Van Breukelen's Sparks Fan Mael website.
Nota II : The screen capture from "The Big T.N.T Show" movie is from R. Stevie Moore's Official Website. From the very first Halfnelson album Sparks was huge influence on the R. Stevie Moore musical style. (www.rsteviemoore.com)