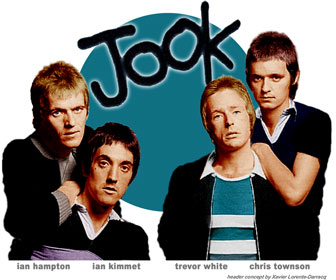 ---

JOOK - TREVOR WHITE AND IAN HAMPTON'S FIRST BAND

---
Jook - Two of these guys later moved to Ron & Russ Mael's Sparks
Trevor White - Ralf "Ian" Kimmett - Ian Hampton - Chris Townson

After the breakup of John's Children, bassist John Hewlett went to work for Apple in the publishing division. Then, when the company started falling apart, he went into management with Gallagher & Lyle and later McGuiness Flint. But John Hewlett soon lost interest 'cause it wasn't really the sort of music he liked. Jook was an attempt to get back to he really wanted.

The Jook were the brainchild of Sparks manager John Hewlett, who introduced guitarist Trevor White to singer-songwriter Ian Kimmett, and recruited bassist Ian Hampton and John's Children drummer Chris Townson. John Hewlett secured a record deal with RCA and a publishing contract with producer Mickie Most.
Singer and guitarist Ian "Ralf" Kimmet worked for Feldman's publishers in London at the time. He and guitarist Trevor White spent some months in Ian's native Jedburgh, Scotland, fulfilling a long cherished desire to "write some songs", and put a band together. There they encountered bassist Ian Hampton from Edinburgh. Before they left drummer Chris Townson - formerly John's Children with John Hewlett - had discussed his desire to be part of that project, being of no fixed abode or gainful drummage employment. After six months Chris Townson received a call, asking him to come along and see if his drumming was as compatible with the material Ian Kimmet and Trevor White wrote. The band name was supplied by John Hewlett, adapted from Gene Chandler's "Jook (Duke) of Earl."
The band took a monthly residency at The Sundown in Edmonton, North London. Jook's uniform of braces, boots, and cropped hair drew a deeply loyal skinhead audience to their side. But the boys, labelled as "Skinheads" by the press, claimed they were not Skinheads but Rudies !
RCA already had Sweet under contract and had just signed David Bowie and were looking for the next big thing. Jook should have been just that. The Jook's debut single, "It's All Right With Me," appeared that summer and over the next two years, the group released four further 45s. The second Jook's single was a cover of Gallagher & Lyle's "City and Suburban Blues" and their third one featured the stomping "Oo Oo Rudie". The song "King Capp" from the next single was about Andy Capp - Andy Capp is a famous British comic character which can be seen on Kimmet's shirt on the photo bellow. The fifth and Jook's last single was "Bish Bash Bosh." Producer Mickie Most signed the Jook to a publishing deal in early 1974 without even hearing a note.
Jook - They wore rugby shirts but they didn't win the Grand Slam...

Jook singles were powerful records with Slade-like production and full of Pete Townshend-styled guitars which would not become common currency elsewhere until the advent of punk - Ian Kimmet used to play on a little black Gretsch guitar and he 'scratched' it into oblivion rather than power chorded it to the same destruction.
Their teen rebellion lyrics were punchy and one of them - "Oo Oo Rudi" - inspired early Irish label mates of the Undertones to name themselves "Rudi". Some of the songs were great, from the debut "Alright With Me" to the flip side of their last single "Crazy Kids" which was later remade by Trevor White. All five records are now rightly regarded as classics of British Glam/Punk/Rock/Pop music...
But Jook records were relative flops and the final nail in the coffin was when they were unable to promote their last single, "Bish Bash Bosh", after their tour with The Sweet had been cancelled. It was also alarming, for Jook to switch on the television one evening in early 1974 and catch the Bay City Rollers in their own variation on the same look - tartan uniforms - only weeks earlier, that the Jook had met the Bay City Rollers at a gig in Scotland and been flattered by the local band's admiration for their image.
Meanwhile, together with John Hewlett, Ron and Russell Mael were looking everywhere for potential recruits in order to form a new Sparks line-up. The Maels liked Jook and an idea of merging the two bands was proposed - but vocalist Ian Kimmet obviously wouldn't be needed. Even Sparks were a great group when it came to it the boys felt so bad about breaking up the little family they'd been in for a couple of years.
Jook - Not Skinheads but Rudies...

Jook's drummer Chris Townson however found the time to lend his services to the interim Sparks that recorded demos and auditioned new members. Slight irony that bassist Ian Hampton and guitarist Trevor White, not Chris Townson, would be the Jook members later to find room in Sparks.
The Jook struggled on for another six months but finally breaking up after manager John Hewlett invited Trevor White and Ian Hampton to join Sparks after bassist Martin Gordon was fired. Drummer Chris Townson joined Martin Gordon's Jet with formerly John's Children' singer Andy Ellison.
Guitarist Trevor White & bassist Ian Hampton played along side with Ron & Russ Mael and recorded Sparks' "Propaganda" (1974) and "Indiscreet" (1975) albums. - more about Sparks...
After Sparks, bassist Ian Hampton did studio sessions mostly. He backed Elizabeth Barraclough in 1978 for two albums released on Todd Rundgren's Bearsville label and Ian Hampton played with various artists as The Three Degrees, Hazel O'Connor and Hot Chocolate.
Following his departure from Sparks,Trevor White joined Jet mark II from August 1975 up to August 1976 replacing guitarist Davy O'List. Several demos with Trevor White were recorded, but the band fell apart. Trevor White cut a solo single for Sparks' then-current label, Island. This 7" was a remake of "Crazy Kids" backed by the Jook's previously unreleased (and uncredited) with "Moving in the Right Direction" as flip-side. Trevor White did a video which featured himself playing on the mantlepiece in a living room whilst his despairing parents looked on. Then Trevor White co-produced Radio Stars' first single "Dirty Pictures" in April 1977.