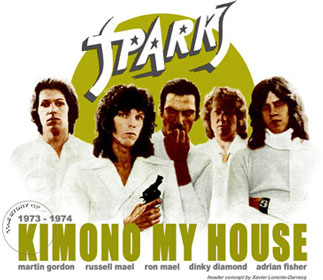 ---

SPARKS "KIMONO MY HOUSE" ALBUM - STUDIO SESSIONS

---
Sparks 1974 - "Kimono My House" studio sessions
The Maels and the band - photo Karl Stoeker

Recordings of "Kimono My House" album began in November 1973 in a variety of London studios : Island Basing Street, Air and Wessex. Then producer Muff Winwood and the band moved to Ramport Studios in Battersea. The place was an old church, turned into an ultramodern studio complex by the Who. For these legendary sessions recording engineers were Richard Digby-Smith and Tony Platt.
Sparks recorded this album during the energy crisis. The band started to record it and all of a sudden the management of Ramport said : "The studio may be operating for six hours, between these hours,but the power rationing's going to be like twelve noon to four - there's no power then so you can't work."
Russell Mael still remembers there were times you'd go into Woolworth's and there were candles in there because there was no electricity in England. Furthermore, Sparks was told that even if the record did get finished because of the vinyl shortage it might never come out. That was one of the scares, that there wouldn't be enough vinyl !
The very first track to be recorded was "In My Family". "Complaints", with its definitive guitar bluesy solo courtesy of Adrian Fisher, was the second one. "Complaints" has that killer guitar fade-out that you almost wish went on forever. But the beauty of these brief and concise pop masterpieces written by Ron Mael for the album is that there are no long and boring instrumental solos. As Ron Mael said about composition at the time, "When a solo soon will grate, modulate."
Then followed "This Town Ain't Big Enough For Both Of Us" and its famous keyboard intro. An idea from Muff Winwood were the gunshots gimmick on "This Town". This track was the song that the producer and the record company suggested as the first single relatively early on. Ron Mael hesitated the choice a bit, not thinking it sounded like a single. Martin Gordon, on the other hand, founded the school that hears ten singles on that album. The vocals on "This Town Aint Big Enough For Both Of Us" sound so stylised because Ron Mael wrote the song without any regard for vocals and Russell had to adapt. The song had one extra verse that was edited out before its release. - read more about this song...
Sparks - guitarist Adrian Fisher

"This Town Ain't Big Enough For Both Of Us" was followed by "Marry Me", which became the non-album b-side to "Propaganda", and the catchy "Talent Is An Asset". Whether that was a celeste, a glockenspiel or a mellotron on "Talent Is An Asset" ? Nobody knows, but those are real castanets on "Hasta Manana, Monsieur", played by dancing specialist drummer Norman Dinky Diamond. That was during the outro coda, which was another Muff Winwood's idea. It was recorded after the main tune, and Muff Winwood had the idea to count it in slightly fast, which, if you know, you can hear.
Then the band recorded the Bavarian waltz-style "Falling In Love With Myself Again". This song could possibly be the first rock waltz. This narcissistic little ditty with the sinister organ intro switches from minor to major keys without warning and the famous "question and answer" vignette with Adrian's guitar and Martin's bass is astonishing.
It was the Advent season and "Thank God It's Not Christmas" suited the spirit very well with bells and all. This song sounds orchestral. Ron Mael had somewhat of a keyboard solo here, refreshing in its simplicity, when the few piano stars in rock at the time were running rampant like those in ELP and Yes. The song "Amateur Hour" was very different in nature from "This Town..." but it was released as the follow-up of the first single and also was successful with the British and European public.
The song "Barbecutie" was at an early stage seen as a "definite hit". Martin Gordon battled to get his Rickenbacker bass recorded properly, and indeed achieve probably the best sound he will ever have, on this track. The bass player had his ten seconds in the spotlight by virtue of the solo bass intro therein but the final version of the song was actually recorded after "Kimono My House" album was finished. "Barbecutie" didn't seem to fit in the album, so it became the first English b-side to "This Town..." It seems plausible that "Lost And Found", which became the non-album b-side to "Amateur Hour" was also recorded post Kimono, which would make it Martin Gordon's last recording with Sparks. - read more about Martin Gordon...
| | | |
| --- | --- | --- |
| Sparks - bassist Martin Gordon | Most things were recorded as they had been rehearsed, but a few disagreements manifested themselves in the studio : When the band went back at Island Basing Street Studios Muff Winwood asked Martin Gordon to re-record the bassline to "Amateur Hour". He preferred his original part and performed the entire overdub whilst looking through the studio door at the comings and goings out-side. Ominously, he was handed Ian Hampton's Fender Precision bass, on which to play this new version. Otherwise, Martin Gordon always used only a Rickenbacker 4001 bass and he was one of the first people to use it like that. The Rickenbacker bass guitar sounds like the low end of a piano, whereas the Fender Precision is a kind of anonymous working man's bass. Later, an altercation happened between Martin Gordon and Ron Mael. When Ron Mael complained to him that the bass playing on "In My Family" was wimpy, the bassist raged hysterically at him... | |
| | | |
"Talent Is An Asset" with its bass line rocked so well that the tune was the chosen single release for America. Many have been mystified by "Equator", the weirdest number on the album. As if there had been uncredited sax players and female vocalists. The critically acclaimed anonymous jazz saxophonist is Ron Mael playing a mellotron - a sort of synthesizer - and the seductive whispers are delivered by a speeded-up Russell Mael.
Among the non-Kimono tracks were stage favourite from Halfnelson era "I Like Girls" and "Profile", which became the non-album b-side to "Get In The Swing" from Indiscreet Lp. Martin Gordon doesn't remember recording "Alabamy Right", which became the non-album b-side to "Never Turn..." from Propaganda Lp, but it had been among the very first Island demos, recorded by the Maels alone.
Sparks - drummer Dinky Diamond

After recording came mixing. Ron and Russell Mael stayed in the control room but the backing group was banned from the studio at this time. This was a job for producer Muff Winwood and mixdown engineer Bill Price. Only afterwards was there a special playback session arranged as a treat for the musicians after everything was completed. So the boys got their postoperative chance to air their views about the exact dynamics and balances of everything.
Guitarist Adrian Fisher and drummer Norman "Dinky" Diamond would generally not took a prominent role in arrangements but bass player Martin Gordon got involved with the musical preparations. The bassist disagreed with producer Muff Winwood about the mix of "Falling In Love With Myself Again", feeling that in the famous "question and answer" vignette, Adrian Fisher's guitar was too quiet. As it is, Martin Gordon's bass-ic answer comes loud, making this a 7-note solo for him.
The band were occasionally disturbed by rock stars visiting the studio. At Ramport Studios when co-owner Roger Daltrey was received Ron Mael nodded and grinned a lot with his head on one side, as he tended to do when uncomfortable. Russell Mael made twittering remarks about Indian restaurants. The singer of The Who left the control room rapidly. Guitarist Paul Kossoff from Free came in to blearily say hello too. He was rather looked down for not having "neat hair".
Additional tracks were used during these recordings, mostly for different keyboards. The Maels were soon looking for an additional keyboardist to be able to reproduce things from the record live. So on the 16th of February 1974 there was an audition for the extra musician... - read more about rehearsals...
Most of informations regarding Sparks' "Kimono My House" studio sessions on this webpage were obtained from bassist Martin Gordon. Additional infos from Carl Van Breukelen and Petteri Aro. Many thanks to Christophe "Outer Space" Horlin, check out his site at www.sparksfan.info