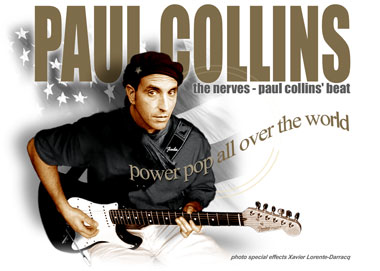 ---

PAUL COLLINS DISCOGRAPHY - DISCOGRAPHIE - DISCOGRAFIA

---
The new full-length solo album from Paul Collins is entitled "Flying High" and features twelve all-new songs. It marks an end to a nearly 12-year musical quest and a start of a creative period that will generate several more releases including more full-lenght studio albums, a live album and a surprise that is sure to thrill fans of Paul Collins entire body of work.

The songs are sonically robust, the instrumentation and shimmering vocals first rate and the chemistry between Paul Collins and the band apparent. The album has an organic feel reminiscent of Paul Collins' Beat's later recordings. Paul Collin's "Flyin' High" album would not have flown if not for the suggestion of Dee Dee Ramone. A longtime friend and fan of Paul Collins, Dee Dee Ramone started him down the path that would eventually result in the creation of "Flyin' High"... -

read more about Paul Collins' new release...
PAUL COLLINS' BEAT - OFFICIAL WEBSITE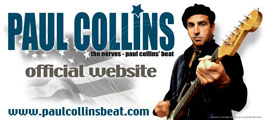 ---

Warning : These pages and their authors are not connected with Paul Collins, The Beat & The Paul Collins' Beat. Graphik Designs site is a personal website not affiliated with Paul Collins' management, The Beat or The Paul Collins' Beat. Paul Collins is not responsible for content displayed on these pages. To get more accurate informations please go to Paul Collins Official website: http://wwww.thepaulcollinsbeat.com