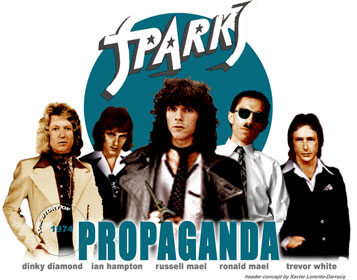 ---

SPARKS - DON KIRSHNER'S "ROCK CONCERT" TV SHOW

---
Sparks' Propaganda Lp was released in America in January of 1975 and the band soon appeared in a barrage of television appearances including NBC's Midnight Special, ABC's In Concert (they were introduced by Keith Moon and Ringo Starr) and that famous syndicated Don Kirschner's Rock Concert.
The show was filmed at the New York Beacon Theater and the band performed up to six songs (highly contrasted amongst the most dreary American rock groups).
Here is the set list of the gig : "Something For the Girl With Everything", "Talent is an Asset", "Hasta Manana Monsieur", "Thank God it's Not Christmas", "B.C." and "Here in Heaven".
Sparks caught the attention of many new fans and charmed the American music press, especially Hit Parader and Detroit's Creem magazine.
During the early '70s, the only way fans could see their favorite band was by shelling out a few bucks or catching them on a late night TV show like In Concert or Don Kirshner's Rock Concert.
Don Kirschner was the host and creator of that weekly rock-concert program. With its long-form live performances, as compared to canned, often lip-synched performances that were the staple of earlier TV shows like Shindig, it was a real breakthrough. Many consider the Don Kirshner's Rock Concert the predecesor to MTV.
Don Kirshner, (born April 17, 1934) is an American song publisher and rock producer who is best known for managing songwriting talent to successful groups like The Monkees and The Archies. As a producer, Kirschner was influential in starting off the career of many singers and songwriters.
The Don Kirshner's Rock Concert presented many of the most successful rock bands of the era, yet many mostly recall Don Kirshner's infamously wooden delivery as the program host .
In its final season Rock Concert was mostly hosted by Don Kirshner's son and daughter whose delivery was, if anything, even more wooden than their father's. (Wikipedia sources)
| | | |
| --- | --- | --- |
| | Sparks "Live In Paris" double pack Cd. The first gig Sparks performed in Paris was played at the legendary Olympia Theatre. Sparks' live touring unit was as followed : Russell Mael on vocals, Ron Mael on keyboards, guitarist Adrian Fisher on guitar, Norman "Dinky" Diamond on drums and bassist Ian Hampton (replacing Martin Gordon from the "Kimono My House" sessions) and guitarist Trevor White. Songs performed are from "Kimono My House" & "Propaganda" LPs plus a rendition of "Girl From Germany" from Sparks' second album "A Woofer In Tweeters' Clothing". A double-pack Cd set includes two concerts recorded at Paris, France during the mid seventies. This is not an official release and was released without the legal right to do so. - read more... | |
| | | |