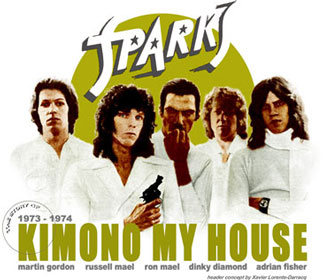 ---

MARTIN GORDON - BASS PLAYER ON "KIMONO MY HOUSE" ALBUM

---
Martin Gordon

was born in 1954. He came from Hitchin, Herts. He studied piano at school. Later he did some bass stuff at a jazz college and had a couple of rehearsal bands with school friends. Before joining Sparks, he was employed as a technical author in maritime engineering. He discovered the band watching the popular BBC programme known as the Old Grey Whistle Test. Martin Gordon was mildly interested in the performance but he knew that Todd Rundgren had produced the band, and that was OK for him.

In June 1973, drummer Bob Hurt called Martin Gordon after he had seen an ad from Sparks in Melody Maker. The band was looking for a bass player and a drummer. Martin Gordon called Russell Mael and an appointment was made. Martin Gordon and the drummer drove to locale of Croydon in south London, searching for the home of Sparks manager John Hewlett. They were looking for an address in Guardstone Road, which the bass player had written down on a piece of paper, but there was no "Guardstone Road" : Martin Gordon discovered after some time, it was Russell Mael's american-accented delivery of "Godstone Road" ! Martin Gordon arrived some hours later than their appointed time. Awaiting him were Ron and Russell Mael and manager John Hewlett.
It wasn't a formal audition, it was just a meeting, checking faces and personalities. Martin Gordon suspected the Maels considered his then post hippie hair too long to fit their image. When he ventured to enquire what did Ron Mael wanted in a bass player, the keyboardist responded "A Lennon to my McCartney". John Hewlett added : "We want Sparks to be a democratic group where everyone can contribute."
In August, Russell Mael invited Martin Gordon to an audition at the Barnet Cricket Club and the Maels seemed favourably impressed that Martin had had his hair cut, a coincidence as he'd decided they weren't going to call back. Chris Townson from John Hewlett's other band Jook was drumming, and Jook guitarist Trevor White might also have been playing. They learned a few songs : "Girl From Germany", "Wonder Girl" and "I Like Girls" from the first two Sparks albums were among them.
The next meeting came a few days later at Island Studios in west London but because of various session musicians who had been booked, Martin Gordon didn't play and just saw what was going on. Several days later Ron Mael invited Martin Gordon to a rehearsal room opposite King's Cross then in another one in Chelsea. More adverts had appeared in the Melody Maker and drummer Norman "Dinky" Diamond and guitarist Adrian Fisher were in the band. - read more about reharsals...
The chemistry between the Maels and Martin Gordon wasn't working very well. Ron Mael and Russell Mael were very intimidated by Martin Gordon because he was a showman as much as they were and they felt their creative control was threatened. But Martin Gordon worked with enthusiasm on most things : arrangements, links, structures... Martin Gordon confess one of the reasons why he took such pleasure in the thing was that he recognised the Ron Mael's stuff being fabulous pop writing.
Recordings of "Kimono My House" album began in November 1973 in a variety of London studios with Muff Winwood as producer. Most things and songs were recorded as they had been rehearsed and Martin Gordon battled to get his Rickenbacker 4001 bass recorded properly but a few disagreements manifested themselves in the studio and when mixing came after recording Martin Gordon, Adrian Fisher & drummer Dinky Diamond were banned from the studio at this time. - read more about Kimono studio sessions...
During the recording of "Kimono My House" album, additional tracks were used, mostly for different keyboards. So the band was soon looking for an additional musician to be able to reproduce things from the record live. On February 1974 there was an audition with keyboardist Peter Oxendale at the Furniture Cave. On March , "This Town Ain't Big Enough For Both Of Us" was first aired on Capital Radio and in an old cinema in Fulham, called Manticore, live reharsals had to begin. - read more...
A video of "This Town Ain't Big Enough For Both Of Us" had been released. Sparks did various band-things for the benefit of the cameras and Martin Gordon fired the famous gunshots at Russell Mael. It was one of the happier moments during Martin Gordon's spell with Sparks. "This Town..." was an enormous hit and an appearance on Top Of The Pops was asked for. Doing this show had a tremendous effect : Sparks had become top stars in England... - read more about the video and Top Of The Pops...
Martin Gordon remembers the night that "This Town Ain't Big Enough For Both Of Us" was shown on Top Of The Pop. Martin Gordon had just turned 20 and it was the first time he'd been on telly. He saw the show with keyboardist Sir Peter Oxendale in the latter's flat. Afterwards, there was "some party or other" at which Martin Gordon was very popular. Martin Gordon himself didn't have to make any kind of proposals : "In the morning it occurred on me that celebrity had something going for it." The next night, at four in the morning after The Top Of The Pop show had been broad-cast, the bass player was called by fan club secretary Joseph Fleury and informed that he was not a Sparks anymore. No one else in the organisation dared to do it and wanted to make the call. Joseph Fleury positioned at the bottom of the ladder did the dirty job.

Next day Martin Gordon talk to John Hewlett. The manager confirmed that Martin's position was that of an ex-Spark, and that it was irretrievable. Several years later John Hewlett told Martin he blamed himself partly for his getting fired and he also apologised for the manner in which it was done. As manager he should have stepped in and told the Maels what they'd got going for them, but when the band said Martin should go he let him go. Martin Gordon was replaced in Sparks by Jook's bassist Ian Hampton.
| | | |
| --- | --- | --- |
| A couple of months after being fired, Martin Gordon's new group - Jet, with Andy Ellison and Chris Townson - was already taking shape and he went to see one of Sparks' first gigs, at the Fairfield Halls, Croydon. The bass player can't remember how or why, but they all met up on the coach after. Martin Gordon, of course, had mixed feelings about the gig, hearing all his stuff being reproduced note for note... - read more about this concert... | | |
| | | |
www.martingordon.de
MARTIN GORDON 'S OFFICIAL WEBSITE