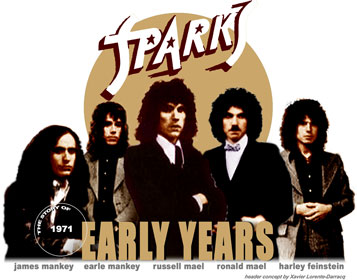 ---
SPARKS "A WOOFER IN TWEETER'S CLOTHING" - BEARSVILLE RECORDS 1973
---
Sparks' second album, "A Woofer In Tweeter's Clothing" was produced by

Thaddeus James Lowe (ex-singer of The Electric Prunes).

Thaddeus James Lowe had engineered Nazz and Runt and a few other albums with Todd Rundgren and that's why he became involved.

Thaddeus James Lowe engineered the Sparks self-titled album which was produced by Todd Rundgren. Todd was doing some other project and couldn't produce the second album so Sparks asked Thaddeus James Lowe if he would be interested. The album was mainly recorded at ID Sound at La Brea and at Walley Heider Studios.

The sound was dense and acrid, with the lyrics taking on a slightly uncomfortable tone, the songs were far less accessible in an instant way, and many were fragmented in the extreme. Sparks' "A Woofer In Tweeter's Clothing" album was no less more idiosyncratic, diverse, inventive, witty and literate than its predecessor and featured several more examples of marvellous, mysterious Maelmusic.
Here we had "Girl From Germany" and a tale of paranoïd parents checking to see if Adolf Hitler was not alive and well in their panelled den. "Beaver O' Lindy", a zani chorus centering around the murmurings of a rock protegy of sinister and gigantic proportions, complete with drums, guitar crashes, cheerleader chorus and Mark Tulin's 15 year old brother Kip Tulin playing accordian (Mark Tulin was bass player in the Electric Prunes). The metallic blitzkrieg of "Whippings And Apologies" was recorded loud and without bass guitar.
"Here Comes Bob", which belies its' story line of a gentlemen who meets young ladies by crashing into their automobiles, was the only excursion into the land of supplemental instruments on the first two albums (strings). There's also more to "Angus Desire", than Russell Mael explaining "It's about drawing nude models in art class"."Nothing Is Sacred" had people running away in droves, as it was the first real evidence of the younger Mael's falsetto.
"Do Re Mi" from the "Sound Of Music" soundtrack was there, sans snowflakes confetti, but with the added attraction of Jim Mankey's bombastic bass. "Do Re Mi" was developped from one of Sparks infrequent jam sessions. "Moon Over Kentucky" intro was written by Ron Mael after seing the movie "Death In Venice".
The gloriously keyboarded "The Louvre" was sung in french and Russell Mael didn't know any French when he sang it either... Russell Mael recorded the vocals totally in french, then totally in english. After countless debates all centering around which language worked best, a compromise was reached. The french translation of the lyrics was writen by Josée Becker.

If Sparks do have a European influence, it's to be found on this record. Listening to it it is like walking through a museum, and seeing the faded murals come to life... For all this, You felt really special if you could honestly love Sparks' "A Woofer In Tweeter's Clothing" Lp, and it still has a strong smell of worship or disdain among those who hear it.
On retourning to America, after three months in Europe, Sparks jetted to Albert Grossman's Bearsville Studios in upstate New York (Woodstock) to record the stage favourite "I Like Girls". Nick James produced the song but it didn't come as well as expected. "I Like Girls" was due to be a single but was never released. Nobody knows why "I Like Girls" never saw the light of day until the Rupert Holmes production version on "Big Beat" Lp. A live version of this song can be heard on "Sparks At The Bottom Line", a bootleg Lp recorded during the "Big Beat Tour", in 1976. The early version of "I Like Girls" with the original group members can be found on the "Profile" compilation Cd released by Rhino Records. - read more...
"A Woofer In Tweeter's Clothing" was released in 1972. In order to avoid problems with Bearsville Records company - read the story of the Halfnelson "Car Interior" cover - Sparks decided to propose an obvious cover with a very classic photography of the band. A photo session was scheduled in the basement of the UCLA Ethnic Arts Museum. Strangely Ron Mael and the band decided to put a blurred shot on the front album cover...
- read more about the original cover...
| | | | |
| --- | --- | --- | --- |
| | | "Girl from Germany" remains one of the Mael's best tune. "Girl From Germany", the most normal sounding and conventional song from the "A Woofer In Tweeter's Clothing" Lp was released as a single with "Beaver O' Lindy" on the b-side. "Girl From Germany" was the band favourite pick for a follow up single to "Wonder Girl". In Europe (in Germany, France and Netherlands) this single was packaged with a revamped cover of the self-titled Sparks first album ! - go to the Sparks discography page... | |
| | | | |
---
SPARKS / A WOOFER IN TWEETER'S CLOTHING - TRACKLIST & CREDITS
---
1. GIRL FROM GERMANY (3.26) - 2. NOTHING IS SACRED (5.31) - 3. BEAVER O'LINDY (3.44) - 4. HERE COMES BOB (2.09) - 5. MOON OVER KENTUCKY (4.08) - 6. DO RE MI (3.38) - 7. ANGUS DESIRE (3.25) - 8. UNDERGROUND (2.59) - 9. THE LOUVRE (5.04) - 10. BATTERIES NOT INCLUDED (0.47) - 11. WHIPPINGS AND APOLOGIES (5.05)

Most of the songs were wrtten by Ron and Russell Mael, except "Beaver O'Lindy" (co-signed by all the band members), "Moon Over Kentucky" (lyrics by Jim Mankey, music by Ron Mael), "Do Re Mi" ("Sound Of Music" soundrack by Richard Rodgers and Oscar Hammerstein II) and "Angus Desire" (writen by Earle Mankey). French translation of "The Louvre" by Josée Becker. Produced by Thaddeus James Lowe for Bearsville Records. Cover photography by Larry Dupont
| | | |
| --- | --- | --- |
| Nota : Most of informations regarding the Sparks' "A Woofer In Tweeter's Clothing" Lp were obtained from The Rock Market Place Review by Joseph Fleury (Sparks manager in the 70's) printed into "2 Originals Of Sparks" booklet. Other ones came from a Mael's interview by Jim Wilson (www.mother-superior.com), Cd reissue booklet notes by Paul Lester of Uncut Magazine and Ruud Swart & Carl Van Breukelen's Sparks website. | | |
| | | |