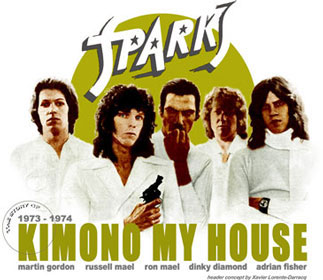 ---

KIMONO MY HOUSE - SPARKS' THIRD ALBUM

---
The "Kimono My House" Lp turned out to be a big hit in the UK even if it never made any kind of impact in America. The album peaked in the UK at #4. When "Kimono My House" was released, UK's Sounds wrote, "Sparks got the musical extravagance of Wizzard, the sophisticated feel of Roxy and the menacing power of the Third Reich." and Britain's New Musical Express (NME) called the album "An instant classic" in their May, 1974 issue with Ron Mael's face beaming on the cover. - read the review...

Not many records have aged as well as this Sparks' third album. "Kimono My House" is listenable 30 years after its release and still sounds disturbingly excellent. Its significance and historical value have been repeatedly praised by many, yet the praises have been heard by few. The album cover alone, has been voted among the best album covers of all time in almost every poll taken. - read more about the cover...
Note : The Cd re-issue contains two bonus b-sides "Barbecutie" and "Lost And Found", just as good as the rest.
The album is great with lots of camp humour, catchy guitars and various electric keyboards hooks. Ron Mael, with a little help from Russell, wrote all the tunes and his lyrics were clever & at times comical plus Russell Mael's falsetto & rapid lyrics were interesting. Ron Mael's piano gave a real nice percussive power that drove the songs on but another vital key to Spark's success on this album were the three Englishmen they hired. This new band kicked with greater rhythmic intensity, and the Mael brother's songwriting found its voice in a hard-charging art-pop.
Guitarist Adrian Fisher was a brilliant musician and one thing that is almost never mentioned about "Kimono My House" is Adrian Fisher's crisp, clear guitar sound. Adrian's guitar rocks throughout the album and it's a shame his Gibson Les Paul guitar is too low in the mix. Adrian's guitar hero riffs deserve to be up front and prominent. Martin Gordon's great bass playing and Norman "Dinky" Diamond's wild drumming ala Keith Moon made this work so well too. This perfect, structurally sound ten-song opus of style, speed and melody is the definitive guide to Brit Pop, a melding of glam, pop, opera, hard rock, music hall, and total comedy elements. Sparks' "Kimono My House" is a true monument to both music and architecture.

Now, 30 years after appearing on the cover of the NME, the list of those who have been inspired by them continues to grow. Most recently Franz Ferdinand have joined the likes of Depeche Mode, Faith No More, Cheap Trick, The Quick, Milk n' Cookies, Erasure, Bjork, Devo, Andrew WK, Rita Mitsouko and Siouxsie Sioux in acclaiming Sparks' influence with Alex Kapranos stating "I can't imagine life without them".
Special mention to a fifteen-year-old Steven Patrick Morrissey was so hugely impressed with Sparks that he began to cultivate pop ambitions of his own, coming to fruition in the distinctly un-Sparks-like Smiths. Morrissey loved that album so much he had even written a letter to NME in 1974 singing its praises. Several years later Morrissey wrote to the Maels saying that "Kimono My House" had been one of the key factors in him wanting to be a musician. When Morrissey was asked to be curator of London's Meltdown festival in 2004, Sparks were one of the acts he wanted. The Maels performed "Kimono My House" in its entirety with obviously a new backing group. Today, Morrissey is near-neighbours with the brothers in LA. He is one of the few pop or rock figures with whom they have regular contact.
---

THE SONGS FROM "KIMONO MY HOUSE"

---
This Town Aint Big Enough For The Both Of Us : This song contains every aspect Sparks had played with so far, all wrapped into the one song with a huge helping of stomping, furiously loud guitars, bombastic bass guitar and wild drums. The lyrics outdo themselves, the vocals are deliriously fantastic. An idea from producer Muff Winwood were the gunshots gimmick. "This Town Ain't Big Enough For Both Of Us" featuring Russell Mael's falsetto vocals, Ron Mael's metronomic piano melodies and guitarist Adrian Fisher's heavy riffs and howling solo had quickly jumped to #2 in UK. The b-side of the single was the fantastic non-album track "Barbecutie" (*) - read more about "This Town Ain't Big Enough For Both Of Us"...
Russell Mael : "This Town Ain't Big Enough For Both Of Us" was so atypical of the time. It wasn't your usual verse-chorus-verse song. We're proud of that fact. A lot of bands seem to enjoy the status quo of things, but we've always gone for the more provocative approach."
Amateur Hour : Second big Sparks hit single "Amateur Hour" is hardly any worse, either. Russell Mael's comparatively naturalistic singing recommends practice as the remedy for sexual naivete. The song "Amateur Hour" is very different in nature from "This Town Ain't Big Enough For Both Of Us" but it was released as the follow-up of the first single. It also was successful with the British, the song rose to #7. The b-side of the single was the non-album track "Lost And Found" (**)
Ron Mael : "With the song "Amateur Hour" we wanted to say that there are still a lot of amateurs in this world, who feel pretty confident about this. You will have noticed that there are many people nowadays who are instantly professionals."
Falling in Love with Myself Again : A theatrical Bavarian waltz-style where we find Russell Mael romantically singing to himself. This narcissistic little ditty with its sinister organ intro is quite catchy when it switches from minor to major keys without warning. The lyrics are top-notch and the feel of the song very Germanic. Contains the famous "question and answer" vignette with Adrian Fisher's guitar and Martin Gordon's bass.
Ron Mael : "The song is about the tendency of people to fall in love with people to whom they look like a lot themselves. An idealistic form of what they would have wanted to have been themselves. How many times have I fallen in love with myself ? Quite honestly, I never liked myself. I'm not my type."
| | |
| --- | --- |
| Here In Heaven : On "Here In Heaven" Russell Mael portrays a deceived Shakespearean hero : a deceased boy blaming his girl for backing off after they'd both decided to commit suicide. This song is a perfect blend of comedy and tragedy. with another gorgeous vocal performance. The Muff Winwood's production somehow evokes the sound of an entire orchestra. "Here In Heaven" is good enough to have followed "This Town Ain't Big Enough For Both Of Us" and "Amateur Hour" to the top of the charts, but it didn't. | |
| | |
Thank God It's Not Christmas : The story of a guy who is glad it's not Christmas because Christmas is the only day when he can't get away from his wife. Sounds orchestral as well, with a Phil Spectorish power and beauty. Ron Mael has somewhat of a keyboard solo here, refreshing in its simplicity, when the few piano stars in rock at the time were running rampant like those in Emerson Lake & Palmer and Yes.
Ron Mael : "This is a song which is pretty hard to explain without getting involved in the Moody Blues philosophy. Look, every day one can find an excuse to escape somebody else. At Christmas, everything is closed and you just have to. However..."
Hasta Manana Monsieur : Language barriers are the subject on "Hasta Manana Monsieur." Again, the lyric sheet assists while Russell Mael mixes up his Spanish and French in speedy English while trying to romance a German girl out on the vast green lawn. The melody sounds somewhat Germanic. Real Spanish castanets are used, played by drummer Norman "Dinky" Diamond.
Russell Mael : "Dedicated to the Berlitz School of Languages, where we tried to combine two languages in one song. It's about communication failures. A song to practice foreign languages, I suppose."
Ron Mael: "Living and working on 'that' side of the world saw a rapid continentalization of our lives. Witness "Hasta Manana Monsieur" a guy's confusion over how to communicate with a girl who speaks a foreign tongue, yet not knowing exactly which tongue that might be. Kind of like being a cashier at Harrods."
Talent Is an Asset : This song features foot stomping, hand-claps and sounds like the best glam inspired pop song from the mi-70s. The bass line rocks, and the tune won't leave your head for weeks. A funny tale about the relatives of Albert Einstein. "Talent Is an Asset" was the chosen single release for America.
Russell Mael : "It was a bizarre phenomenon for us to be performing songs in concert with lyrics such as those in "Talent is an Asset" about a young Albert Einstein growing up, and in turn having girls screaming and throwing themselves at us on stage."
Complaints : This song contains more great guitars and has a killer guitar fade-out that you almost wish went on forever. The beauty of these brief and concise pop masterpieces is that there are no long and boring instrumental solos. As Ron Mael said about composition at the time, "When a solo soon will grate, modulate."
Ron Mael : "Nothing more than three minutes of complaining. In stereo. The first stereophonic headache."
| | |
| --- | --- |
| In My Family : Vaguely inspired by Orson Welles' "Citizen Kane", this song is making fun of family orientated clout. Russell Mael contemplates his heritage. This song contains the brilliant line, "Gonna hang myself from my family tree" Russell is probably angry at brother Ron for writing such difficult melodies for him to sing ! This song featured a definitive bluesy guitar solo courtesy of Adrian Fisher. | |
| | |
Equator : This is the song you put on when a friend has overstayed his welcome "Equator" clears a room within two minutes. "Equator" tells the story of a guy who's mad at his girl for telling that she'd meet him on the equator but not having arrived in due time. This is the closest Russell Mael has come to singing the blues. At the irritating ending Russell improvises over the chorus and fights with a saxophone played by Ron Mael on a mellotron - an ancestor of the synthesizer. The seductive whispers are delivered by a speeded-up Russell Mael.
Ron Mael : "The old story of a girl that tells a boy that she would be waiting for him at the Equator, which he takes seriously. He can't find her although they did agree to meet around the bend. Just a sad boy-girl song. Nothing more, nothing less."
(*) Barbecutie : This song which became the b-side to "This Town Ain't Big Enough For Both Of Us" is a fantastic lyrically crazy song about cannibalism. The intro of "Barbecutie" contains a great example of a huge bass tone played by Martin Gordon and the song got a powerful boogie-style rhythm. It seems plausible that "Barbecutie" was recorded post Kimono sessions. This song was not on the original release of the "Kimono My House" Lp but it is now available on the Cd reissue.
Russell Mael : "We are advocates of the school that says that B-sides have their own "raison d'être". A B-side is a B-side; it doesn't necessarily have to relate to the A-side, or to anything else for that matter. Afterall, it's a B-side. "Barbecutie" didn't seem to fit with the "Kimono My House" Lp, so it became the first English B-side.".
(**) Lost And Found : This song with its anthemic chorus and perfect knocking vocal hooks became the b-side to "Amateur Hour". It seems plausible "Lost And Found" also was recorded post Kimono sessions which would make this song Martin Gordon's last recording with Sparks. "Lost And Found" was not on the original release of "Kimono My House" Lp but it is now available on the Cd reissue.
Russell Mael : "A guy finds a wallet lost by a careless man and makes only a half-hearted attempt to find its owner and return it to him. It's not really a metaphor for anything. It's just about a guy finding a wallet and not wanting to give it back."
| | | |
| --- | --- | --- |
| Sparks' Kimono My House credits : Russell Mael, vocals - Ronald Mael, keyboards - Martin Gordon, bass - Adrian Fisher, guitar, Norman "Dinky" Dimond, drums. Produced by Muff Winwood. Recording Engineers Richard Digby-Smith & Tony Platt. Mixdown Engineer Bill Price. Art Direction Nicholas de Ville. Photographies Karl Stoeker. Artwork Bob Bowkett. Year Of Release : ©1974 Island Records | | |
| | | |
Most of informations regarding Sparks' "Kimono My House" album
were obtained from Madeline Bocaro's blog :
http://madelinesparks.blogspot.com

Additional infos from Nick Karn - http://www.geocities.com/mjareviews/sparks.html - Carl Van Breukelen, Constant Meijers, Petteri Aro. Many thanks to George Starostin, Carl Van Breukelen, Constant Meijers, Petteri Aro and Christophe "Outer Space" Horlin.