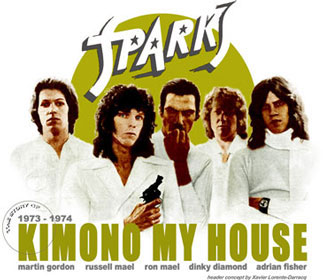 ---

SPARKS - "THIS TOWN AIN'T BIG ENOUGH FOR BOTH OF US" SINGLE

---
Ron Mael arrived in England without any new songs. He was told that he was the kind of writer that needed to write four songs in order to come up with one good one but the songwritter wanted to get off to a good start with Island Records. It never occurred to him how much was riding on the results of this songwriting period. He was thrilled just to be living in England.

During the week, Ron Mael would try writing on guitar and on the weekends he would try writing on the piano. His mum Miriam and his stepfather Mr Oscar Rogenson were living at Clapham Junction and there was a piano in their flat. So on Sundays Ron Mael would take a bus to his parents'.
At the time Ron Mael had been practicing a lot of exercises to improve his musicianship and that classical thing became apparent in his songwriting. Among hammering away John Sebastian Bach etudes that blended into the buzz of the unknown London outside his window in the summer of 1973, Ron Mael wrote a book of songs that was almost fearsome in its absolute perfection. - read more about the songs...
One Sunday Ron Mael came up with a sort of classically-tinged song that seemed to be sort of in the style of an earlier song of the Halfnelson/Sparks tune called "Simple Ballet". At first Ron Mael didn't think of it as special. There weren't any words or title, but Ron Mael sang to himself "Too Hot, Too Hot to Handle" - which became the "zoo time is she and you time..." section. Ron Mael really needed to have at least a working title because even though he was playing the entire melody on the piano - which is why the song is so hard to sing -, he didn't have a tape recorder to even record the songs as a way to remember them.
Something happened with this song. The line "this town ain't big enough for the both of us" is a western-movie cliché, a challenge from one gunfighter to another. But having a song that was the opposite of a cliché but used a cliched line really interested the songwritter. The vocals sound so stylised because Ron Mael wrote the song without any regard for vocals and Russell Mael had to adapt.
Ron Mael : "This Town Ain't Big Enough For Both of Us" was written in A, and by God it'll be sung in A. I just feel that if you're coming up with most of the music, then you have an idea where it's going to go. And no singer is gonna get in my way."
Russell Mael : "When he wrote "This Town Ain't Big Enough For Both of Us", Ron could only play it in that key. It was so much work to transpose the song and one of us had to budge, so I made the adjustment to fit in. My voice ain't a "rock" voice. It's not soulful, in the traditional rock way; It's not about "guts". It's untrained, unschooled, I never questioned why I was singing high. It just happened, dictated by the songs. Ron has always written Sparks' lyrics and never transposed them into a rock key for me to sing. He always packed each line with words and I had to sing them as they were." (The Word #36, February 2006)
Originally Ron Mael had had the idea of having each verse of the song using a different movie cliche like "this town ain't big enough for the both of us" as the chorus line, but that seemed to him like it would make an uncommercial song completely unplayable. So Ron Mael decided to repeat "This Town Ain't Big Enough..." each verse. The song also had one extra verse but it was edited out before its release (*). After many tries Ron Mael was happy to have a finished tune because he's never able to write a part of a song and then come back to complete it the next day. If it doesn't all come together quickly, he scrap it and go home depressed.
Ron Mael and Russell Mael were shocked when producer Muff Winwood and the Island Records company thought "This Town Ain't Big Enough For Both of Us" was a single. Muff Winwood added the gunshots gimmick in studio and bet his friend Elton John that this song would be a Top 5 hit in Great Britain. Elton John bet no, and lost. - read more about the studio sessions...
"This Town Ain't Big Enough For Both of Us" was first aired by Nicky Horne on Capital Radio on March 11, 1974, and also on John Peel's radio show that same evening with accolades from both influential DJ's. To meet airplay demand, Island Records had to rush-release the single. The b-side of the single was the fantastic non-album track "Barbecutie". Doing Top of the Pops had a tremendous effect. It took six weeks for the record to begin to be accepted in the U.K. The "Kimono My House" album peaked in the UK at #4, and its second single, "Amateur Hour" rose to #7 just after "This Town Ain't Big Enough For Both of Us" had quickly jumped to #2 during the week of Sparks' performance on Top of the Pops.
To this day, Ron & Russell are bitter that a band named The Rubettes with a song named "Sugar Baby Love" kept their song out of number one for a month... - read more about Top Of The Pops appearance...
| | | |
| --- | --- | --- |
| Russell Mael : "This Town Ain't Big Enough For Both of Us" was so atypical of the time. It wasn't your usual verse-chorus-verse song. We're proud of that fact. A lot of bands seem to enjoy the status quo of things, but we've always gone for the more provocative approach. "This Town Ain't Big Enough For Both of Us" tries to challenge the listener, to show what pop music is capable of. We did try and recruit Brian May around that time. We met up a few times, just before Queen had really broken through in the States. We were looking for a guitar player for Sparks and he gave it some thought. He was ruminating on it, but it wasn't to be." | | |
| | | |
| | | |
| --- | --- | --- |
| (*) The version of "This Town Ain't Big Enough For Both of Us" from the "Live at Fairfield Halls, Croydon U.K, 1975" Lp bootleg was true to the original recorded version of the song. Here is the extra verse that was edited out before its release : "Choosing, the girl is choosing / Between the man who's well-to-do / And the man who is you / Heartbeat, increasing heartbeat / There is a panic-selling jamboree" | | |
| | | |
Most of informations regarding Sparks' "This Town Ain't Big Enough For Both of Us" single on this webpage were obtained from official sources. Additional infos from Petteri Aro. Many thanks to Christophe "Outer Space" Horlin. Visit his website at www.sparksfan.info