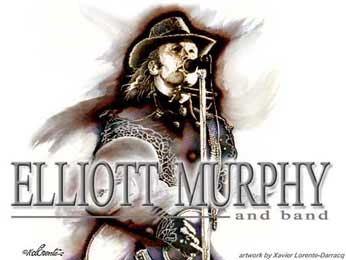 ---

ELLIOTT MURPHY CD - LIVE IN FRANCE - 1991

---
"Elliott Murphy Live In Grenoble" presents a selection of songs played by Elliott Murphy during his performance in Grenoble on June 21, 1991. Xavier Lorente-Darracq, who had the heavy task to replace the titular bass player didn't know Elliott Murphy at all and he met the singer only a few minutes before going up on stage. This evening there, downtown in Grenoble, the public gathers more than 10 000 people. On this live recording, Elliott Murphy was backed by Bruno Lechène on drums, Christophe Ithurritze on keyboards and Xavier Lorente-Darracq on bass guitar.

When Xavier Lorente-Darracq left the place to Ernie Brooks back from the States, Elliott Murphy confess to Christophe Ithurritze that he never played so loud and fast than with this backing group.
In spring 1991, Elliott Murphy asks the members of his backing group to find a bass player in order to replace Ernie Brooks temporarily left ressourcer at his birthplace in the States. The substitute must have a certain musical level, a good looking, must be able to sing english background vocals and have to learn about 30 songs in less than 15 days. The keyboardist of the band proposes Xavier Lorente-Darracq to this job, specifying Elliott Murphy that this bass player got a Rickenbacker 4001 bass guitar.
When he goes up on stage this evening in front of more than 10 000 people, Xavier Lorente-Darracq never had rehearsals with Elliott Murphy yet. The french bass player did get his safety on several songs only thanks to the invaluable assistance of the keyboardist Christophe Ithurritze who howled to him the right chords from the opposite corner of the wide stage.
| | | |
| --- | --- | --- |
| Elliott Murphy Live In Grenoble - Tracklist : "THE MALADY AND THE MEDECINE" - "DESTINY" - "SOMETHING LIKE STEVE MC QUEEN" - "DIAMONDS BY THE YARD" - "THE EPICENTER" - "(NO I) I COULDN'T TOUCH YOU" - "GREETINGS FROM SYDNEY" - "ON ELVIS PRESLEY'S BIRTHDAY" - "CLEAN IT UP" - "YOU NEVER KNOW WHAT YOU'RE IN FOR" - "SACRIFICE" | | |
| | | |
---

ELLIOTT MURPHY & BAND LIVE IN GRENOBLE - JUNE 21, 1991

---
THE CROWD OF GREAT NIGHTS

"The crowd moved to downtown on yesterday evening. For this festival of music, thousands of people came, giving the perfect mood to this edition '91 whose the main attraction was Elliott Murphy. (...) On the place Felix Poulat the audience was ready for the star : Elliott Murphy. American born, the singer plays rhythm n' blues, rock'n'roll, and cristalized the whole crowd on the place (...) Elliott Murphy, to the audience : "Well... It's the very first time that I play by a french church (Elliott Murphy shows the Saint-Louis church behind him) and in front of an american church (he shows an universally known hamburger store)".

From the "Dauphiné Libéré"
French daily newspaper
Samedi 22 Juin 1991
| | | |
| --- | --- | --- |
| A few months after this recording, Elliott Murphy will more frequently tour with much more intimist and acoustic sets, generally backed by one musician only. The sound quality of this "Elliott Murphy Live In Grenoble" disc is astonishing, the sound having been directly captured from the mixing desk. Unfortunately this recording doesn't offer the whole set of Elliott Murphy and only a dozen of songs are available on this CD. | | |
| | | |
| | | |
| --- | --- | --- |
| Elliott Murphy's Set list : "THE MALADY AND THE MEDECINE" - "CHANGE WILL COME" - "DESTINY" - "SOMETHING LIKE STEVE MC QUEEN" - "DIAMONDS BY THE YARD" - "THE EPICENTER" - "SICILY" - "(NO I) I COULDN'T TOUCH YOU" - "GREETINGS FROM SYDNEY" - "ON ELVIS PRESLEY'S BIRTHDAY" - "CLEAN IT UP" - "AUTOMATIC EROTIC" - "YOU NEVER KNOW WHAT YOU'RE IN FOR" - "SACRIFICE" - "ROUTE 66" - "LAST OF THE ROCK STARS" | | |
| | | |
---
Warning : These pages and their authors are not connected with Elliott Murphy. Graphik Designs site is a personal website not affiliated with Elliott Murphy management. Elliott Murphy is not responsible for content displayed on these pages. To get more accurate informations please go to Elliott Murphy's Official website: http://wwww.elliottmurphy.com