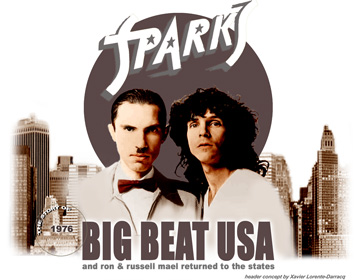 ---

SPARKS - "BIG BEAT" ALBUM/PART ONE

---
By 1976, Sparks were no longer the darlings of British glam rock and soon after "Indiscreet" failed to achieve chart access as significant as the two preceding albums Sparks dismissed.

Bassist Ian Hampton, guitarist Trevor White and drummer Norman "Dinky" Diamond didn't know which direction the music was taking, but they all felt it time for Ron Mael & Russell Mael to explore new avenues. It was a parting of mutual and amicable consent and the British Sparks band sort of disintegrated.

The Brits stayed in England as The Maels returned to the States having secured a record deal with CBS to record their sixth album project which became both their final record for Island and the first for Columbia label.
Russell Mael : "Well, we are obviously optimist and very happy having making that deal with Columbia. It's the greatest American label you know ? Our new release is called "Big Beat" and we are backed by a real rocking band. The album is produced by Rupert Holmes and we have a plan to tour North America together with Patti Smith !" (Rock & Folk, July 1976)

First The Maels had decided to returned home to Los Angeles determined to adopt a more "West Coast" sound but as they always had their ear to the ground the brothers saw the emergence of the Punk movement. As in the mid- to late '70s the "new wave" scene in NYC was pretty much active they finally moved to the Big Apple with the intention of recording a harder rock record. The Maels had all the songs for the "Big Beat" album project and were in touch with famous producer Rupert Holmes.
Ron Mael & Russell Mael only needed a backing-group. So via manager John Hewlett, The Maels recruited former Roxy Music and Milk'n'Cookies bassist Sal Maida (Sparks and Milk'n'Cookies shared the same manager in Hewlett). Then, they hired session drummer Hilly Michaels and the band went into a rehearsal hall and did the new songs with David Bowie's Ziggy Stardust & The Spiders From Mars, the legendary Mick Ronson. At time, as David Bowie had "killed" Ziggy Stardust, Mick Ronson was no longer a spider and the talented guitar player didn't know which direction his career was taking. Ron Mael & Russell Mael first met Mick Ronson via Bowie producer Tony Visconti who worked with the Brothers on their latest "Indiscreet" album.
During these sessions at least three demos were recorded : "Big Boy", "Everybody's Stupid", and "I Want To Be Like Everybody Else". Mick Ronson was considered for the "Big Beat" album and he almost accepted the Maels' invitation to join Sparks but unfortunately this collaboration never materialized.
Mick Ronson : "I would have liked to do it, but I was still involved with Ian Hunter and the Dylan thing (Ronson was a member of Dylan's "Rolling Thunder" tour. There just wasn't time."
When Mick Ronson dropped out, bassist Sal Maida brought in Tuff Darts Jeffrey Salen to play guitar. Mick Ronson later employed drummer Hilly "Boy" Michaels for the Hunter-Ronson band in 1979.
Ron Mael : "The demos featuring Mick Ronson actually sound better than what the final album sounded like. (...) I think producer Rupert Holmes might have been around for the sessions. We still have the cassettes of the really rough demos of Mick Ronson playing a lot of the songs and they sound really great because he plays with a lot of abandon. Rupert Holmes finally produced "Big Beat" and it was such a funny thing because he's 180 degrees away from the sort of producer that should be producing that kind of sound. It was just a screwy situation." (Interview by Jim Wilson, 2003).

In the States The Maels were something completely different. The "Big Beat" album, as its title implies, represented a change. The Maels' look was the same - Ron Mael in his white shirt, narrow tie, slicked-down hair and Russell Mael in fashionable (immaculate) white jeans and pretty-boy poses - but the sound certainly wasn't.
For their sixth album Ron & Russell Mael had hired Rupert Holmes as producer. Rupert Holmes, successful piano player, arranger and songwriter had a hit in 1971 on both the American and UK charts, "Timothy". He released his first album, "Widescreen", in 1974 and then produced albums for such singing legends including Barbra Streisand. After producing Sparks' "Big Beat" album Rupert Holmes known as a singer and songwriter made international fame with "Escape (The Pina Colada Song)".
The Maels were trying for success in their own country so they aim for a much more straightforward and punchy, hard-rocking sound, with very basic chord sequences as opposed to the complex music of before. The "Big Beat" album was recorded at Mediasound Recording studio in Manhattan, NYC and backed up with their musicians with a mid-Sixties beat The Mael Brothers rocked again...
Some informations regarding Sparks Big Beat album
were obtained from guitarist Jim Wilson's website :
www.mother-superior.com


Additional infos from Leslie Hanagan, Christophe Horlin and Carl Van Breukelen