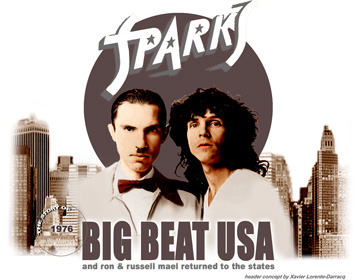 ---

SPARKS - "BIG BEAT" CD REISSUE /PART TWO

---
The "Big Beat" Lp was recorded at Mediasound studio in New York City during August 1976. It was produced by Rupert Holmes and Jeffrey Lesser with as additional engineers, Bob Clearmountain, Harvey Goldberg and Michael Barbiero.

"Big Beat" wasn't as adventurous as what Ron & Russell Mael had been doing before that but it still was extremely enjoyable and featured some great songs on it.
Backed up with a mid-Sixties beat Sparks rocked, especially Tuff Darts guitarist Jeffrey Salen, whose solos really standed out. Although he wrote the songs as usual, keyboardist Ron Mael was pretty much either buried in the mix throughout or just not doing very much interesting the entire album.
Ron Mael had abandoned his RMI Electra-piano for a grand piano and kept his music-hall tendencies in the background, leaving most of the performing space for talented session men - Jeff Salen, Sal Maida, Hilly Michaels - who skillfully brought a new edge to the songs.
Even though "Big Beat" was going to be a more stripped down album with more guitars and fewer of Ron's keyboards Russell Mael was going to do a lush, orchestral duet version of Lennon & MacCartney's "I Want To Hold Your Hand" with Marianne Faithfull. Producer Rupert Holmes did a syrupy score for the song, yet Marianne Faithfull dropped out of the project at the last minute leaving Rupert Holmes, Jeffrey Lesser and The Maels with a score and no one to sing it. Russell Mael ended up singing the song, yet it seemed so incongruous even for Sparks, that this excecrable orchestral assault never appeared on an album. - read more...
Ron & Russell Mael also worked together with their previous bandmate producer/guitarist Earle Mankey co-producing a very weird song "England". A single of "I Want To Hold Your Hand" b/w "England" was released as Sparks' in a few assorted European lands. This vinyl single is rather scarce nowadays but both of the songs are now available on Sparks' "Indiscreet" Cd reissue as bonus-tracks.
The Beatles created "I Want To Hold Your Hand" and in 1967 US American photographer Richard Avedon created the portraits of the Beatles in pop art style. The Maels had always wanted to work with the renowned photographer and they finally got the opportunity for the cover of their "Big Beat" album.
Russell Mael : "The "Big Beat" album cover was shot in 15 minutes by Richard Avedon at his New York assembly-line style photo studio, in by 9, out by 5."
"Ron Mael : "Our only disappointment however was that the process was more like a factory where you are shot for 20 minutes, are handed your proof sheets, and sent merrily on your way. The shot was expensive but photographically, we were very happy with the results."
The front cover of the album featured the portrait of The Maels by Avedon. It was just superb and it was a great choice to make it black and white. Ron Mael was in his white shirt, narrow tie and slicked-down hair while pretty-boy Russell had bared his chest wearing fashionable immaculate white jeans.
| | | |
| --- | --- | --- |
| The song "Big Boy" was chosen to feature on the only single from "Big Beat" (althought in England a 7" vinyl "I like Girls" b/w "England" was also released). The flip side was the propulsive "Fill-er-Up". The catchy pop of "Big Boy" was fine, but the single sank without trace the moment it was released. Neither the single or the album gained much attention and Sparks never reached any Billboard chart. After the release of the "Big Beat" album Sparks was shot at Magic Mountain amusement park, Valencia, California, USA performing two songs "live" for the "Rollercoaster" motion picture. In fact The Maels & the boys mimed to their studio recordings of "Big Boy" & "Fill'er Up" and applauses were added in the mix. - read more... | | |
| | | |
Then Sparks toured North America with a slightly change of the line-up : bassist David Swanson replaced Sal Maida, Luke Zamperini & Jimmy McAllister were on guitars and Hilly "Boy" Michaels still on drums. The band did several gigs but the planned tour with Patti Smith never materialized.
During winter '76 Sparks played a memorable gig at "The Bottom Line" club, NYC. Sparks played two evenings at Greenwitch Village. The Sparks performance was recorded the 21st of December. Later this tape from the sound board turned up on a scarce live bootleg. Eleven songs were recorded, mainly tracks from the "Big Beat" album. - read more...

Some considered "Big Beat" to be Sparks' stab at punk rock, however, clean production by Rupert Holmes was far too pretty for punk. Sparks' "Big Beat" was not a second string album (like its follow up "Introducing"). There was not a single bad song on the Lp but it failed commercialy.
| | | |
| --- | --- | --- |
| John Hewlett : "The major change of sound was for the "Big Beat" album. They (The Maels) went for a harder, rock sound. It was a contrived attempt by producer Rupert Holmes to... well, it was "Rupert"s a big name', it was swanning around New York... I think the best comparison is Bob Ezrin and Alice Cooper, but with Sparks it was just a bunch of session musicians in New York..." (Sausade Magazine, January 1990) | | |
| | | |
Some informations regarding Sparks Big Beat album
were obtained from guitarist Jim Wilson's website :
www.mother-superior.com


Additional infos from Sven Gusevik and Carl Van Breukelen