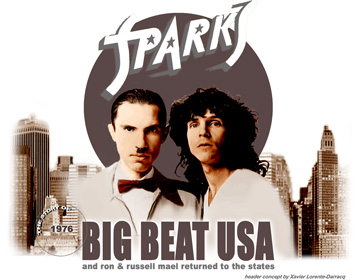 ---

SPARKS IN "ROLLERCOASTER" THE MOVIE - 1976/1977

---
Rollercoaster the movie

After "Indiscreet" Lp failed to achieve chart access, Ron & Russell Mael got dissatisfied with the European public as well and relocated back to the United States leaving the British band behind. So, in 1976, The Maels produced their most aggressive album, "Big Beat". This record with mostly guitar based tunes was produced by Rupert Holmes. Ron Mael & Russell Mael used session-men musicians with a mid-Sixties bent : Jeffrey Salen (Tuff Darts) on guitars, long time Sparks' fan Sal Maida (Milk & Cookies) played bass guitar while Hilly "Boy Michaels" was on drums.

In 1974, famous french movie director Jacques Tati had planned to make his movie ''Confusion'' with Ron Mael & Russell Mael. - read more... The project mainly failed because of Jacques Tati's bankruptcy and Sparks instead appeared in performance in the 1977 blockbuster motion picture "Rollercoaster". Rollercoaster was a disaster film directed by James Goldstone.
The teen-idol fan magazines "Tiger Beat & 16" reported to their readers in 1976 that the Scottish glam-rock band the Bay City Rollers were to perform in this film. However, the Bay City Rollers never did appear in this theatrical film, and Sparks are in the movie instead.
Filmmakers shot "Rollercoaster" in and around three different amusement parks to simulate the one in the movie. But Sparks performance was shot at Magic Mountain Parkway, Valencia, California, USA. Sparks performed two songs "live" in the motion picture. In fact they mimed to their studio recordings of "Big Boy" & "Fill'er Up" and applauses were added in the mix. The Sparks appearance was too brief but very empressive and fun, especially when Ron Mael gets rowdy and broke his piano stool on the floor. At time Sparks was a really guitar band : Luke Zamperini & Jimmy McAllister had replaced Jeffrey Salen on guitars and Sal Maida's blue 4001 Rickenbacker bass guitar was so nice...
| | | | |
| --- | --- | --- | --- |
| | | Russell Mael : "Yes, you did see Sparks performing "Big Boy" and "Fill'er Up" in the film "Rollercoaster" during your last airplane trip. No, we didn't know that the film was going to turn out like that. Rollercoaster movie proves that you have to be continually careful of what you do... You never know what's going to last and what's going to fall by the wayside, and man, does that last !" | |
| | | | |
Synopsis of Rollercoaster : A young man with a deep understanding of radio-controled home made explosives targets the patrons of an amusement park for his million-dollar extortion scheme. He informs federal agents and the owners of the park that he has planted a bomb and he demands $1,000,000...
"Rollercoaster" stars George Segal as Harry Caulder, a government safety inspector who has to deal with the terrorist played by Timothy Bottoms. Also in the film are Richard Widmark as federal agent Hoyt, Henry Fonda who appears for like a total of five minutes in two or three scenes, Susan Strassberg as Caulder's girlfriend, and a teenagish Helen Hunt as Caulder's daughter.
| | | |
| --- | --- | --- |
| | Sparks Live At The Bottom Line. After the release of the "Big Beat" album Sparks toured North America with a slightly change of the line-up - David Swanson on bass guitar, Luke Zamperini & Jimmy McAllister on guitars and Hilly Boy Michaels still on drums. During winter '76 Sparks played a memorable gig at "The Bottom Line" club, NYC. Sparks played two evenings at Greenwitch Village. The Sparks performance was recorded December 21st 1976. Later this tape from the sound board turned up on a scarce live bootleg. Eleven songs were recorded, mainly tracks from "Big Beat", so on this album "real" live versions of "Big Boy" & "Fill'er Up" can be heard... - read more... | |
| | | |
Screen captures pics from Sparks appearence
in "Rollercoaster" were obtained from Nicole Pimont :
http://www.sparksphotos.fr.tc

Additional infos from Carl Van Breukelen and Cristophe "Outerspace" Horlin