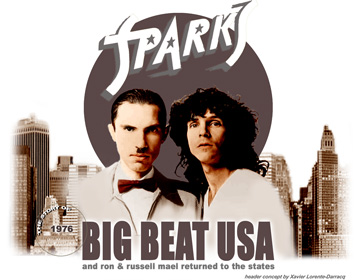 ---

SAL MAIDA - BASS PLAYER ON SPARKS "BIG BEAT" LP

---
Sal Maida (Salvatore Maida) was born on July 29, 1948 was born and raised in Manhattan's infamous Little Italy,New York City. In his childhood Sal Maida started collecting records and was member of the Sparks Official International Fan Club ran by Mary Martin. Sal Maida studied at the Fordham University, NYC and played in some local bands in New York.

Sal Maida was graduated from Fordham University with a BS in Economics but could often be found seated in the back of his class with The Melody Maker tucked safely inside his textbook. A dedicated Anglophile, his trips to England led to an audition with Family, a jam with David O'List (Nice, later with Martin Gordon's Jet) and an early session with the pre-Roxy Music, Paul Thompson.

In February 1973 Sal Maida joined Roxy Music, replacing John Porter (who produced Sparks' early Island demos). After he joined, Roxy Music started a Europen tour promoting their brand new album "For your pleasure" (recorded still with bassist John Porter). Sal Maida kept on touring with Roxy Music but after a new tour in America, he left them. Some live tracks with Sal Maida on bass finally resurfaced in the live album "Viva !", released in 1976.
| | | |
| --- | --- | --- |
| As he was back living in New York from Being in England with Roxy Music, Sal Maida joined American bubblegum glam band Milk'n' Cookies in October 1974. Milk'n'Cookies from Woodmere Long Island was formed by guitarist Ian North, vocalist Justin Strauss, bassist Jay Weis and drummer Mike Ruiz. The band was discovered by Sparks' Fan Club secretary Joseph Fleury. Fleury sent a tape to Sparks manager John Hewlet who was impressed and signed the band. Meanwhile bassist Jay Weis had been fired and John Hewlett convinced Sal Maida to check out his discovery in the basement of the lead singer's home. Keyboardist Jimmy Destri (later with Blondie) auditioned, but Milk'n'Cookies decided not to have a keyboard player in the band. John Hewlett guaranteed a deal with Island Records so Sal joined up and producer Muff Winwood, who had produced Sparks' "Kimono My House", flew to New York to hear Milk'n'Cookies. Shortly after, the boys were in London recording at Island Studios. After their first single "Little Lost And Innocent" b/w the non-album track "Good Friends" (called "Just Friends" on the French pressing sleeve) was released in February of 1975, Island Records shelved the full-length. | | |
| | | |
Muff Winwood producing, the self-titled "Milk'n'Cookies" album obviously had a strong Sparks influence but remained unreleased for over a year, then American Sire label signed the band and finally put the album out. Milk'n'Cookies recorded some demos but they never finished another album and the band split. Their video for "Only Love Is Left Alive" was played a few times in the early days of MTV.

At time Sparks guitarist Adrian Fisher had been fired and Ron Mael & Russell Mael were looking someone and it looked for a while as though Ian North might be suitable, but Ian North declined and went on to form his own new wave band called Ian North's Radio. Original bassist Jay Weis married Hollywood actress Kathleen Turner, Justin Strauss became one of the worlds best Djs as drummer Mike Ruiz joined The Paul Collins' Beat and Sal Maida went on to play bass with The Maels.
Sparks and Milk'n'Cookies shared the same manager in John Hewlet and when The Maels came to New York with the intention of recording a harder rock record Sal Maida was enlisted to join Sparks in July 1976. The band lineup originally included guitarist Mick and drummer Hilly Michaels. When Ronson dropped out, Maida brought in Tuff Darts Jeff Salen to play guitar on what became the "Big Beat" Lp on Columbia Records.

Sal Maida was remplaced in the Sparks tour unit by bass player David Swanson (later with The Pop). While Sparks was touring Sal Maida received a call to replace the bassist and joined them in L.A. for the remainder of the tour. Sal Maida did the gigs at The Bottom Line and was the guy with the blue Rickenbacker 4001 bass guitar who can be seen alongside The Maels in the "Rollercoaster" motion picture. - read more about the movie...
The Runaways "Waitin' For the Night" album was released in 1977. Bassist Jackie Fox only played on one track on this record, the rest of the songs featured an uncredited Sal Maida on bass. After that Sal Maida did other Kim Fowley's projects. In the early '80s Sal Maida formed Velveteen with vocalist Lisa Burns, Richard Beau and James Courtney and produced the Ep "After Hours" for Atlantic Records with old mate Ian North guesting.
In the late 80's Sal Maida and Lisa Burns signed to MCA Music publishing as The Hepburns but they never released a record. Then they formed The Lovin' Kind, a musical exploration in roots music. They performed with a revolving group of talented musicians including Dave Schramm, Frank Carillo and Annie Golden. The album "Along the Way" paid tribute to traditional country songform with inspiration provided by way of June Carter-Cash, Bill Monroe, The Louvin' Brothers and Willie Nelson's "Redheaded Stranger."
http://salmaidalisaburns.com
SAL MAIDA'S OFFICIAL WEBSITE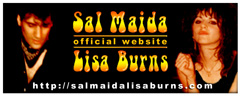 | | | |
| --- | --- | --- |
| | Sparks Live At The Bottom Line. After the release of the "Big Beat" album Sparks toured North America with a slightly change of the line-up - David Swanson on bass guitar, Luke Zamperini & Jimmy McAllister on guitars and Hilly Boy Michaels still on drums. During winter '76 Sparks played a memorable gig at "The Bottom Line" club, NYC. Sparks played two evenings at Greenwitch Village. The Sparks performance was recorded December 21st 1976. Later this tape from the sound board turned up on a scarce live bootleg. Eleven songs were recorded, mainly tracks from "Big Beat", so on this album "real" live versions of "Big Boy" & "Fill'er Up" can be heard... - read more... | |
| | | |
Most informations regarding Sal Maida
were obtained from Miguel Terol :
www.geocities.com/SunsetStrip/Diner/2674/maida_sal_a.html

Informations regarding
Milk'n'Cookies were obtained from :
www.gullbuy.com/buy/2005/8_2/milkncookies.cfm

Additional infos from Carl Van Breukelen and Frédéric "Popdom" Fauchet