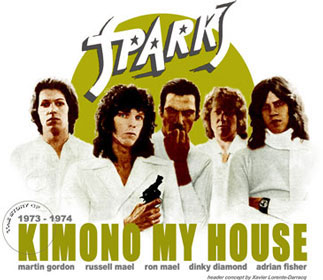 ---

SPARKS IN UK - "KIMONO MY HOUSE" ERA / PART TWO

---
In England Maels' parents were living at Clapham Junction but Ron Mael and Russell Mael were living in their manager John Hewlett's house in Croydon. The Maels soon settled into London life. Stores were closing on Sundays, that didn't really happen in southern California, but Ron & Russell Mael saw Roxy Music and the Sweet and thought these bands were really good. As the Maels were fans of Indian food, London also was a really nice place to live.

John Hewlett and Island Records had faith, but Sparks didn't have any new song. So during summer of 1973, Ron Mael with a guitar and a piano wrote a book of songs that was almost fearsome in its absolute perfection. The song "This Town Ain't Big Enough For Both of Us" was among them. - read more about this song...
| | | | |
| --- | --- | --- | --- |
| | Together with John Hewlett, Ron and Russell Mael were looking everywhere for potential recruits, including Hewlett's other band, Jook. Jook's members posed as violent skinheads, although they were of course quite normal middle class boys trying to get a hit record. The line-up of the band included vocalist Ian Kimmet, bassist Ian Hampton, guitarist Trevor White and drummer Chris Townson, a John's Children veteran. The Maels liked Jook and an idea of merging the two bands was proposed - but vocalist Ian Kimmet obviously wouldn't be needed. Jook's own future at that point looked promising and even Sparks were a great group when it came to it the boys felt so bad about breaking up the little family they'd been in for a couple of years. Nevertheless Jook's drummer Chris Townson however found the time to lend his services to the interim Sparks that recorded demos and auditioned new members. Slight irony that Ian Hampton and Trevor White, not ChrisTownson, would be the Jook members later to find room in Sparks. - read more about Jook... | | |
| | | | |
Jook - T. White, Kimett, Ian Hampton & Chris Townson

Demos were recorded at Island Studios in west London and produced by bassist John Porter, formerly with Roxy Music. Paul Rudolph formerly with the Pink Fairies played guitar and Chris Townson was on drums. - read more about these first Island demos...
These guys were reportedly considered "too old" to join the band but anybody Ron Mael's age or older would seem to have been "too old" - apparently this criterion wasn't applied to Chris Townson, however. Yet at some point, a one-off single by this line-up was a considered possibility. But adverts had appeared in the Melody Maker, all specifying that applicants should be of pleasant appearance and not have beards. A lot of people answered these adverts.
Warren Cann, later with Ultravox, was among them. Warren Cann had the feeling he might have a bit of an edge as he thought, at the time, being probably one of the few people in the U.K. who'd heard of Sparks. Warren Cann went along and met Ron and Russ Mael. They chatted over cigarettes and coffee but to his great exasperation, the Maels weren't very interested in discussing any of his musical exploits or interests whatsoever... Others auditions followed...
Bassist Martin Gordon then drummer Norman Diamond were enlisted, guitarist Adrian Fisher being hired as the last member of the British band. Thus consolidated, what we today know as the "Kimono" line-up began rehearsals in Clapham in autumn 1973 and continued in Chelsea in the Furniture Cave under King's Road to rehearse for the album which became "Kimono My House". - read more about these rehearsals...
The very first choice of Ron & Russell Mael to produce their album would be Roy Wood : The Maels liked very much The Move and were fond of the musical extravagance of Wizzard. But Roy Wood who had founded the Electric Light Orchestra with Jeff Lynne two years ago and was working on his Wizzard project was unable. So the Maels accepted to be produced by Muff Winwood.
Recordings of "Kimono My House" album began in November 1973 in a variety of London studios : Island Basing Street, Air and Wessex. Then Muff Winwood, Ron & Russell Mael and the band moved to Ramport Studios in Battersea. Sparks recorded this album during the energy crisis in Europe and the Maels and the boys were told that even if the record did get finished because of the vinyl shortage it might never come out... - read more about the studio sessions...
| | | |
| --- | --- | --- |
| A video of "This Town Ain't Big Enough For Both Of Us" had been released. The single "This Town..." was an enormous hit and in May 1974 Sparks had two shots at Top Of The Pops. The first time the band turned up, manager John Hewlett hadn't arranged work permits for the Maels, so the BBC asked them to go away. The next week the band did "This Town Ain't Big Enough For The Both Of Us". Doing Top of the Pops had a tremendous effect and Sparks became top stars in England. But bass player Martin Gordon quarreled frequently with the Mael brothers so after Top of the Pops had been broad-cast, Martin Gordon was replaced in the band by Jook's bassist Ian Hampton. - read more about Top Of The Pops... | | |
| | | |
Most of informations regarding Ron Mael & Russell Mael on this webpage were obtained from official sources. Some additional infos from Martin Gordon and Petteri Aro. Many thanks to Christophe "Outer Space" Horlin. Visit his website at www.sparksfan.info